UMPC University of Montana Paleontology Center
最新版本 由 University of Montana Paleontology Center 發佈於 Oct 24, 2016 University of Montana Paleontology Center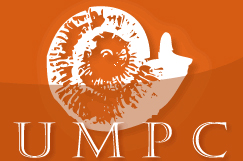 Triassic Corals (Scleractinia) Cenozoic Mammals (Oligo-Miocene) Mississippian marine fauna (Bear Gulch Limestone) Cambrian Trilobites (Rocky Mountains/Continental Divide)
Data Records
The data in this 出現紀錄 resource has been published as a Darwin Core Archive (DwC-A), which is a standardized format for sharing biodiversity data as a set of one or more data tables. The core data table contains 23 records.
This IPT archives the data and thus serves as the data repository. The data and resource metadata are available for download in the downloads section. The versions table lists other versions of the resource that have been made publicly available and allows tracking changes made to the resource over time.
版本
The table below shows only published versions of the resource that are publicly accessible.
如何引用
研究者應依照以下指示引用此資源。:
University of Montana Paleontology Center (UMPC)
Rights
研究者應尊重以下權利聲明。:
The publisher and rights holder of this work is University of Montana Paleontology Center. To the extent possible under law, the publisher has waived all rights to these data and has dedicated them to the Public Domain (CC0 1.0). Users may copy, modify, distribute and use the work, including for commercial purposes, without restriction.
聯絡資訊
資源建立者:
可回覆此資源相關問題者:
元數據填寫者:
與此資源的相關者:
地理涵蓋範圍
Focus on the NW USA, but also contains material from Peru, Mexico, and Europe.
| | |
| --- | --- |
| 界定座標範圍 | 緯度南界 經度西界 [-42.71, -126.02], 緯度北界 經度東界 [70.45, 46.56] |
分類群涵蓋範圍
Triassic Corals (Scleractinia), Cenozoic Mammals (Oligo-Miocene), Mississippian marine fauna (Bear Gulch Limestone), Cambrian Trilobites (Rocky Mountains/Continental Divide)
| | |
| --- | --- |
| Order | Scleractinia (Triassic Corals) |